Market Updates
Turning market insights into actionable outcomes. Get Standard Chartered's views on what to watch out for in today's Financial Markets.
Episodes
Tuesday May 04, 2021
Tuesday May 04, 2021
Much talk lately has focused on the idea of US exceptionalism leading global recovery. At the same time, there are other economies that are also picking up across emerging markets, while some are falling behind. This is creating vast divergences across regions and sectors and performance of various financial instruments. In these complex times, what is the best investment strategy? Hear insights from our global research strategists, Eric Robertsen and Kaushik Rudra.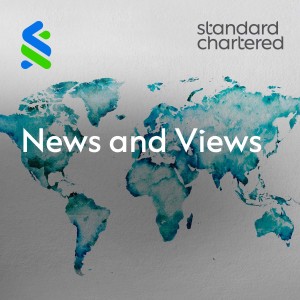 Friday Mar 12, 2021
Friday Mar 12, 2021
Digitalised, distributed and disrupted – that's global trade today. But not many technologies have stirred up so much interest than blockchain, especially for moving closer to paperless trade and reducing trade finance costs. For Standard Chartered, a major focus is on leveraging blockchain to digitise trade finance in a secure way while continuing to support clients in their financing transactions   In this podcast, Zelda Anthony, Executive Director DLT Strategy and Execution, and Samuel Mathew, Global Head of Documentary Trade for Transaction Banking at Standard Chartered share insights into the practical implementations of blockchain in trade, its biggest benefits to clients and what more can it do.